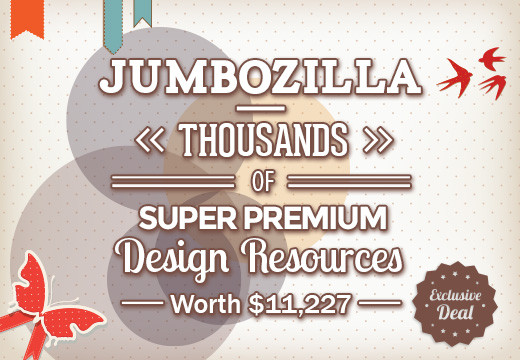 Specs from InkyDeals.com:
One of our main goals here at InkyDeals is to bring you the best (and biggest) deals possible. And we take it seriously.

We proved you more than one that we have the biggest deals you could possibly find on the market and so far we had thousands of satisfied customers.

But with this deal we took it a step further. We gathered all the Super Premium deals we ever had on InkyDeals and bundled them up in this incredible deal. Here you'll find 26 different collections that have thousands of top-quality elements!

This JumboZilla will save you precious hours of hard work and a whole lot of money! And do I have to mention that all these resources come with an extended royalty license?

Even if you could get all these super premium deals at their discounted price (which would've taken you 2 years), you'd still have to pay $788.9.

But exclusively with this deal, you can get the entire super premium bundle for just $129! And even though the discounted price is a little bit spicier than you're used to, I can guarantee that you won't regret this purchase.

How? Because with this deal we're offering a 200% money-back guarantee: if this bundle doesn't rise to your expectations, you will get your money back, AND keep the source files! And on top of that you'll get a lot of cool bonuses in each set!